Best Blogging Tools for Every Blogger to Start or Optimize Blog
Best Blogging Tools for Every Blogger to Start or Optimize Blog
Best Blogging Tools for Every Blogger to Start or Optimize Blog, -The blogging world growing every day and there's now so much more to think about to make your blog stand out.
There are countless blogging tools out there designed to make your life as a blogger easier, more effective, and more Google-friendly but which ones are really worth it? Here we have gathered our top essential blogging tools which will help you on your journey.
They are a combination of free and paid tools perfect for those who are just beginning to dip their toes into the blogging pool or for dedicated bloggers ready to really invest in their blog journey. 
If you need to schedule a post on any of your social media accounts – Buffer is the go-to tool. It is ridiculously easy to use and you can integrate your accounts from Facebook, Twitter, Instagram, LinkedIn, Pinterest, and even Google+ if you are still using it.
Once your blog post is written and published, it's time for some promotion and you can set up an easy sharing schedule with Buffer. Make sure to schedule your new article to go to your social channels multiple times with different headlines or images attached to each update for variety.
The best tool for Twitter monitoring – and is owned by Twitter means it will very likely stay that way. There are so many possibilities with TweetDeck to track various things across the site and our favorite things to track are:
Your mentions
All your notifications
Your home screen
Certain hashtags you want to get involved in
Your favorite bloggers
Shares of your blog
Images are extremely important for bloggers, from in the blog posts themselves to social media posts and more. A quality image can also go viral on Pinterest and bring you thousands of visitors in a very short time. Blog posts with images are proven to receive more visitors, keep the readers on your site for longer and increase the number of shares it gets so they simply can't be ignored. Whether you want to make infographics, featured images or just a few visuals to go in your posts, you can do it all in Canva.
One of the best things about Canva is it comes loaded with templates so all of your graphics can be sized perfectly for each specific social media site. If you want an image to be easy for your readers to Pin, choose the Pinterest template. Or maybe you want something that people can Tweet? You'd then just choose the Twitter template.
Evernote is the king of all note-taking software, it can be simple in its basic note-taking form all the way to the ability to capture anything from Web pages to images, text, and voice notes. Evernote is also accessible from just about anywhere including computers, tablets, or mobile devices meaning your notes are never far away.
The tagging system in Evernote is incredibly robust, so you can keep your ideas with a simple tag in a number of cool ways for example, by topic, by idea stage, and more. Plus, with the ability to search through all of your notes (even text within images), you'll be able to find everything you need within seconds.
Email is the best way to communicate with your audience – your readers will much more likely see your email than see a Tweet or a Facebook post, so it is vitally important you start collecting email addresses as early as possible.
Thrive Leads offers a complete solution for creating forms on your blog to collect email subscribers. From a simple ribbon across the top of the site to full-screen lightboxes, you'll be able to create seamless on-brand messaging and grow your audience in no time at all.
Another thing to consider is if you want to become a professional blogger and potentially sell products or services then an email list is the proven best return on investment for this.
So now you're collecting email subscribers using Thrive Leads, you now need to treat your brand new subscribers to beautiful emails. Don't worry, MailChimp offers an easy-to-use platform to create & send emails to your growing database and the paid subscription (from only $10 a month) gives you a huge amount of potential too.
With the ability to set up a welcome series to introduce your new subscribers to both you and your blog it also lets you set up an RSS-to-email campaign where your subscribers will automatically get emailed your latest blog post as soon as it goes live.
MailChimp has features galore, from automatically sending the email at the right time for your subscribers' location to a simple drag and drop email editor (or the HTML editor for those more advanced coders).
Trello is essentially a project management tool focused around improving your workflow – which makes it perfect for creating an editorial calendar for your blog.
You can create tasks, set due dates, add multiple team members and do almost everything you need to manage your entire blogging process. There are plenty of project management tools out there, but Trello is great for bloggers because it's streamlined and doesn't have a lot of the clutter that you don't need.
How do you transform your awesome idea into a far-reaching blogpost (that people can easily find)? Check for popular keywords! Creating a blog post targeting a particular keyword is the best way to grow your organic traffic from Google.
Google's Keyword Planner lets you enter a series of keywords, and Google returns results on search volume and popularity as well as related keywords that might spark an idea for you.
You have your keywords chosen from the Google Keyword Planner. Now, you need to come up with some different blog topics and titles focused on those keywords. That's where Buzzsumo comes in.
Buzzsumo lets you find blog posts that have been highly shared on social media. You simply carry out a search for your main keyword and you'll get a list of the latest and most shared blog posts related to your search. Then, you can create better versions of their most successful content to get more views.
Simply copy and paste your article into Grammarly's online grammar checker to how it performs against checks for spelling, sentence structure, punctuation, style, and more. The initial score is free to see. The specifics of what to change (as well as suggestions from Grammarly) come with their paid plans. This great tool will help those who cannot get access to a proofreader and want the peace of mind that your blog posts are grammatically sound.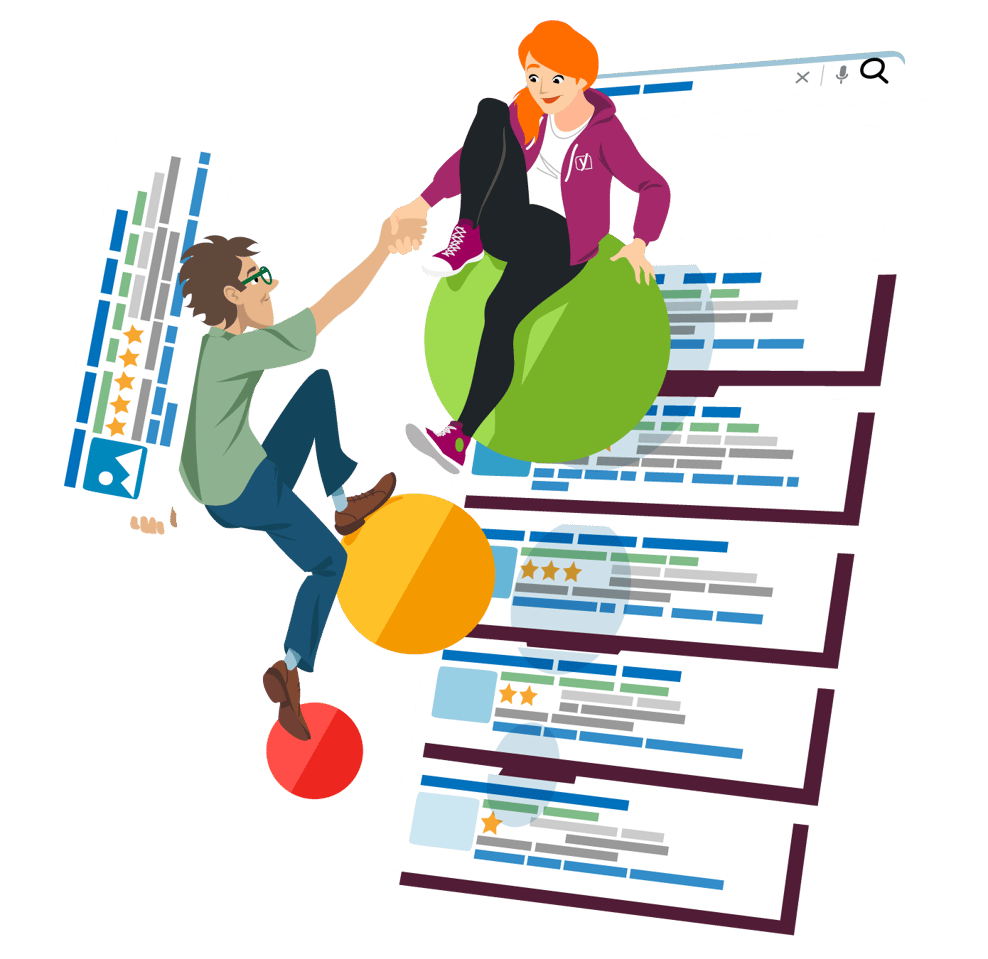 Yoast SEO is one of the most popular plugins for the WordPress platform and with good reason – it's a one-stop-shop for all your onsite SEO needs!
Using your keyword from Google Keyword Planner, you can enter that as a focus keyword and the plugin will guide you through various elements to make sure your post is likely to rank for that keyword as much as possible. From editing the title tags, and meta descriptions, to counting the mentions of the keyword in the article and even the readability of your post.
Some of the settings may seem a little complex if you're new to SEO and WordPress, but Yoast created a complete tutorial to help you get everything set up.
Technically this should probably be #1 on the list as if you have a blog you need to have Google Analytics installed right from the start. It will quickly become invaluable as you grow your blog.
There is so much you can learn from Google Analytics (often shortened to GA) including:
Your most popular articles
Your most popular visiting country
Best performing traffic days
Best converting sign up page
Where your traffic is coming from (Google? Facebook? Etc.)
Whether your visitors are on mobiles, desktops, or tablets
You can even find out some demographic data from your visitors to find out more about their interests. and these are only scratching the surface – once you start digging there is no end to what you can find.
Google Analytics can help you learn what works best on your site and where to concentrate your efforts if your readers love a particular theme of posts then you can make sure you produce more of them. If a certain email sign-up page converts better than the others, you can push more traffic to that page.
Everybody loves giveaways and they are a great way to both grow your audience and treat them at the same time. Gleam creates easily embeddable giveaway forms with multiple entry methods including following on Twitter, signing up for a newsletter, referring friends to the giveaway, and about 20 more.
An underused tactic with Gleam is to partner with other bloggers with each of you embedding the giveaway on your blogs to multiply the reach of the giveaway and get more exposure for each blogger taking part. Brands are also normally happy to give prizes to bloggers as it gets their name out there too so take the plunge and ask them!
'A bloggers dream is probably one way to describe Sumo, and there is so much power packed into just the free version of Sumo!
The plugin can provide:
Social sharing buttons
Email list building forms
Heatmaps
Contact forms
Social sharing buttons on images
And much more.
The social sharing buttons can be tailored for different audiences, whether someone is on their mobile (so maybe include a Whatsapp share button) or even based on where they came from for example if they arrived from Pinterest making sure the Pinterest share button is as obvious as possible. Check out their site for the full suite of features and how you can use them.
Which tools will you be utilizing on your blog this year?